4th TOKEN Policy Observatory
September 14, 2022 @ 11:30 am

-

1:30 pm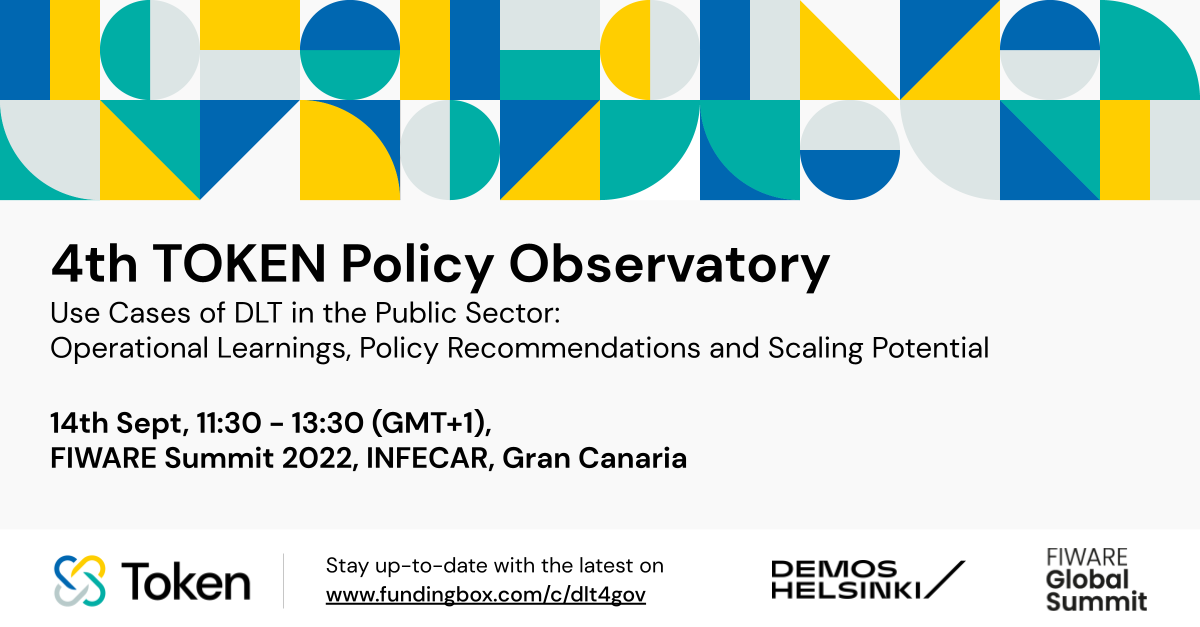 Use Cases of DLT in the Public Sector:
Operational Learnings, Policy Recommendations and Scaling Potential
Registration for the summit in person, general ticket includes the Observatory (fees apply)
Registration to view the online stream (free)
Welcome to the TOKEN project's fourth Policy Observatory event! The Observatory brings together professionals working with applications of Distributed Ledger Technologies (DLTs) in the public sector to discuss operative learnings, the policy landscape and scaling potential related to current Use Cases. 
In addition to presenting four TOKEN Pioneer Use Cases and their lessons so far, we will learn about scaling from an expert from a scaled Case, the Energy Wallet. We will also share thoughts in a panel discussion moderated by the think tank Demos Helsinki.
At the event, we hope to crystallize the learnings from Use Cases, making it easier to improve and scale similar DLT projects especially in the European context. After the Observatory we will recommend best practices for cities, and the European public sector more widely.
Below you will find the programme and the essential information about the event. We hope to see you in September!
What purposes does the event serve? 
A means to get acquainted with latest Distributed Ledger Technology applications in the European public sector
A forum to discuss the needs for policy and regulations, operative possibilities and challenges, and learn about scaling
A way to connect with people working with public sector DLTs 
For whom is it?
Professionals working with public sector DLT applications – or aspiring to do so, e.g.: 
Chief Technology Officers of cities
Civil servants working with DLTs and tech projects, smart cities etc.
Policy makers interested in the digital transformation of their institutions
Innovations and tech specialists within public administration 
Researchers
Developers/industry professionals
How can I register?
If you want to attend the live event, please purchase tickets to the FIWARE Global summit in Gran Canaria here. Please note, that you'll have to buy a ticket to the whole summit – there are no specific Observatory tickets available.

PROGRAM OF THE EVENT:
Live at FIWARE Summit 2022, Gran Canaria and streamed. Times in GMT+1.
11:30 Welcoming words – Stefano De Panfilis (FIWARE Foundation COO and TOKEN Consortium Leader)
11:35 Introduction the Policy Observatory – Pinja Lehtonen (Demos Helsinki)
11:40 TOKEN Pioneer Use Cases presented
11:40 Public Funding Distribution – Lynda O'Mahony (Fundingbox)
11:50 Transparent Management of Public Accounts – Konstantinos Glykos (Information Technologies Institute)
12:00 Last Mile Logistics & Dynamic City Access Management – Joris Finck (Imec)
12:10 Data Valorization Services – Laura Rodríguez de Lope (University of Cantabria)
12:20 Learning from a scaled DLT Use Case in the public sector
Jeroen Wester, Energy Wallet
12:45 Panel discussion: Operational, scaling and policy learnings from Use Cases moderated by Johannes Anttila, Demos Helsinki
13:30 Concluding the event