"You are sitting at a cafe recommended to you by an algorithm, at a table that was cut on a CNC milling machine; you pay for your coffee with cryptocurrency, which you do by tapping your smartphone against the register; the voices of children playing an AR game filter...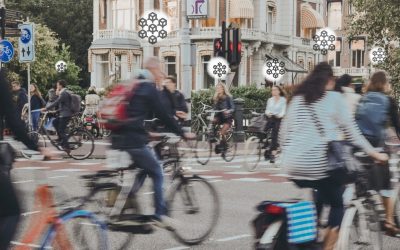 Blockchain-based currencies were designed to be independent of public monetary institutions or nation-states. Meanwhile public organisations are investing a lot for utilizing blockchain-based technologies.
In terms of privacy, COVID-19 have brought about a tidal wave of actions by governments that a short while ago would have been seen deeply tinged with dystopian undertones. Placing entire cities, countries, and regions in lockdown and creating digital applications to track movement have been swift and (perhaps) necessary actions by governments.